Are you worried about your mobile or pc addicted kid? In this era of pandemics, there is no way to let them go out for playing outside instead of hours of gaming. So, what is the solution to this problem? Well, the best mini trampolines could be the best solution for this!
But how?
So, today I'll be sharing with you the best solution for you kids and you to keep your body fit and a healthy in this pandemic.
Mini trampoline, the words don't describe it all. Though it is named mini, it is appropriate for adults too. For whole-body exercising, it is a good solution.
There are lots of proven health benefits of using a mini-trampoline. Besides, they are easily portable and comparatively lighter in weight than 8 ft trampoline or 10 feet trampolines. However, you will know it better in the review section. So, further making it big let's dig into the main part.
From the below reviews, I have personally chosen the BCAN 40″ foldable Mini Trampoline. The reason is, It's super compact, easy to assemble, kids-friendly, can hold enough weight, easily washable, and super durable.
If you are in a hurry and looking for the best value for the money then start with the BCAN 40″ Trampoline. Also, it comes with an adjustable foam handle.
RAVS Mini Trampoline for Kids and Adults 48″/40″ Get this trampoline having a load capacity of up to 440 lbs. Also, a foldable design with an adjustable handle makes it better in use.
Specifications
Dimension: 40 x 35-46 inches.
Weight: 24 pound
Color: Blue
Material: Steel and durable polyurethane
Key Features
Assembling the trampoline is so easy and takes a little time.
Being foldable they are easy to carry and save your room space.
Padded cover with double mat for extra comfort.
Thick steel frame can hold high pressure.
Easy to adjustable handle.
When you search for the best mini trampoline, there is no way to escape "SereneLife Portable & Foldable Trampoline." The trampoline features a combination of a secure jumping mat and a sturdy frame. The jumping mat is crafted with durable polypropylene and coil spring, and the frame is made of rustproof steel.
Another plus point of the trampoline is the padded handlebar. You can adjust the height from 35-46 inches. Moreover, there is no chance to lose grip while holding it.
No worries about the space to store it. You can call it a space saver as it comes with a foldable design. On top of that, it is highly portable, however, the weight might be a problem while transportation.
Finally, important information, enough makes the adults smile. The weight capacity of this mini trampoline is 220 lbs.
Specifications
Assembled dimension: 36W x 32H inches.
Weights: 14. 11 lbs
Material: Polypropylene and Steel
Key Features
As it is crafted with supremely durable materials, it is safe for kids.
Enjoy sustained bounce and elasticity with the help of a comfortable handle.
The purchase comes with a safe kit bag.
Holds 150 pounds.
Comparing to SereneLife Portable & Foldable Trampoline, this one is 4 inches smaller as well as lighter. Considering the construction this one is highly secure for your kid, in fact, it's the best mini trampoline for kids.
Just like the previous one this one also uses polypropylene and steel frame. Fortunately, the frame cover uses soft paddings and it's a mini trampoline with a bar.
Another advantageous fact is the trampoline is also foldable. So, storing the product will be easier than ever. Plus, an integrated handle is an additional feature to control your bounce.
Keep in mind, the trampoline is suitable for kids and teenagers as its weight capacity is 150 pounds. We don't suggest any adult using it for fitness purposes.
Specifications
Materials: Polypropylene & Steel
Weight Capacity: up to 220 pounds.
Dimension: 32.5″L x 15.4″W x 4.2″H
Key Features
Mini trampoline foldable design makes it easily transportable.
As the trampoline is made with the best quality materials so, it will serve you for a long period.
The 36 springs all over the trampoline offer stable and good bounce in each jump.
Can be store in a corner by folding it.
It will provide you a safe, stable, convenient, and reliable workout session.
This one is a mini trampoline for adults to exercise. Unlike SerenLife Portable Fitness Trampoline, this one has much space for doing exercise. A trampoline workout can improve your muscle and health.
It has a sturdy steel frame, that assures you to support you in every jump. The steel of the frame is powder-coated so it is rust-resistance. It has 36 rings over a 50% reduction to get a super stable bounce.
The strong bungee cords are covered with waterproof PVC pads. Moreover, the bungee cords keep the trampoline quiet while you exercise on it.
Specifications
Dimension: 40.5″L x 40.5″W x 44.5″H
Weight: 21 pounds
Materials: Steel
Key Features
The rebound is made in China.
It is easily portable and storable.
It has a handlebar with a comfortable grip to support yourself while exercising.
Six supporting legs of this rebounder can maintain heavyweight jumping.
Kids can also use this trampoline aside from adults.
In our list, this one is the all-rounder trampoline. Everything you will want in a quality trampoline is in this single one. At first, we want to mention that this trampoline is the most wallet-friendly product on the market.
This rebounder is very easy to assemble and dissemble. What the buyers love in this trampoline is the sturdy stability bar. It makes the user tackle themselves while exercising. The bar also has soft padding to make the hands comfortable. So, you can call it the best mini trampoline for rebounding.
The handlebar of this rebounder makes it kid-friendly. So, when your monkey begins to jump on it, they can hold the bar for support. It holds up to 250 pounds weight which is pretty impressive too. Overall, this trampoline can be your mate to do an intense workout to boost your cardio health and flex your muscles.
Specifications
Materials: Rubber & Steel
Size: 40″L x 16″W x 6.5″H
Weight Capacity: 330 lbs
Key Features
The trampoline has 4 adjustable legs designed for kids and adults.
It has 32 closed padded spring rings to offer a quiet and stable jumping session.
For the easily foldable design, you can fold it anywhere, even in the closet.
The whole rebounder is very easy to clean.
Without taking off the pad, the four holes system helps you to fold the trampoline.
Just like Marcy 40″ Trampoline Cardio Trainer, BCAN 40″ Foldable Mini Trampoline is also another best overall add to our list. Most of the trampolines in the market are made of polypropylene or other materials, but here this one is made of Rubber to produce the ideal friction while you jump.
This rebounder meets all the safety and necessities of the users. It has a handlebar to support the user. The handle is adjustable into 4 different heights as you want to customize. Around the trampoline, there are steel springs to hold everything in place and make a quiet workout.
What we love most in this rebounder is, the springs are covered with sturdy padding. So, while exercising, the user's foot won't fall or slip from the springs. Plus, this trampoline has a huge weight capacity unlike most of the ordinary trampolines in the market.
Specification
Assembled dimension: 48 x 38-46 inches
Folded dimension: 30 x 17 x 3.5 inches
Weight: 20 lbs
Number of spring: 40
Key Features
The handle comes with 5 level adjustability having a good grip.
Get the manual for the installation guide.
Anti-slip and rubber feet.
Integrated with an ultra-strong steel frame.
This is the final product of the list. If you've been looking for the best mini trampoline for seniors then this product is the one you should opt for. The product is mainly designed for adults as it has a load capacity of 440 pounds.
The trampoline has 8 legs with non-slip rubber caps. Plus, there are 40 stainless steel springs. All these maintain silent bouncing as well as make it a heavy-duty trampoline.
Another great thing is the foldable design. You can easily hold it just by removing the legs. So, it's easy to carry as well.
Finally, let's talk about the frame. It is made of premium quality steel including a safety cover. Besides, the mat is also made of soft, thick, and premium quality materials. In addition, there is a handle for extra safety.
Some Common Questions and Answers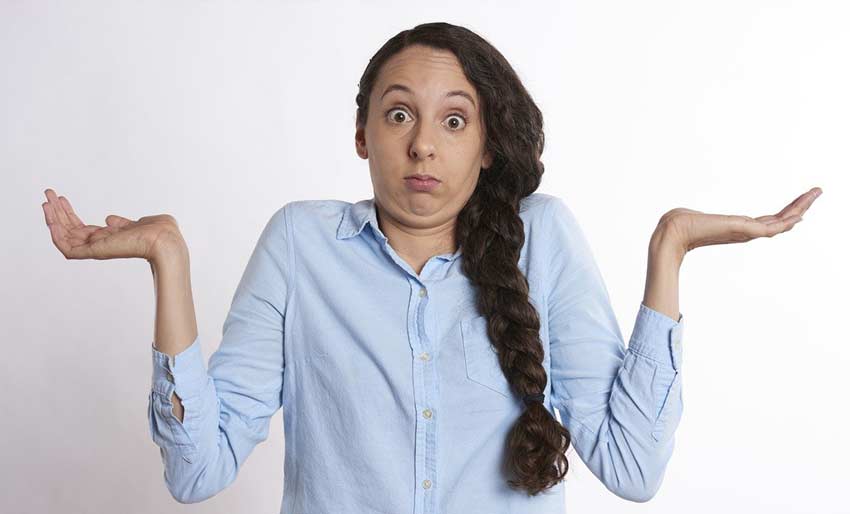 Are mini trampolines safe for 2-year-olds?
We don't recommend it safe for your 2-years old kid. Toddlers generally start to jump at 2-3 years. And it's good for jumping on the ground. However, you can teach them to jump using a safe trampoline.
If you feel a 2 years old kid okay while jumping on the trampoline then you can let them play on the trampoline but under direct supervision. If you want to learn more then check out this article, Trampoline Age Recommendation.
Also, I have written an in-depth article. You can check out this also is trampoline bad for Toddlers? Know the truth and the safety!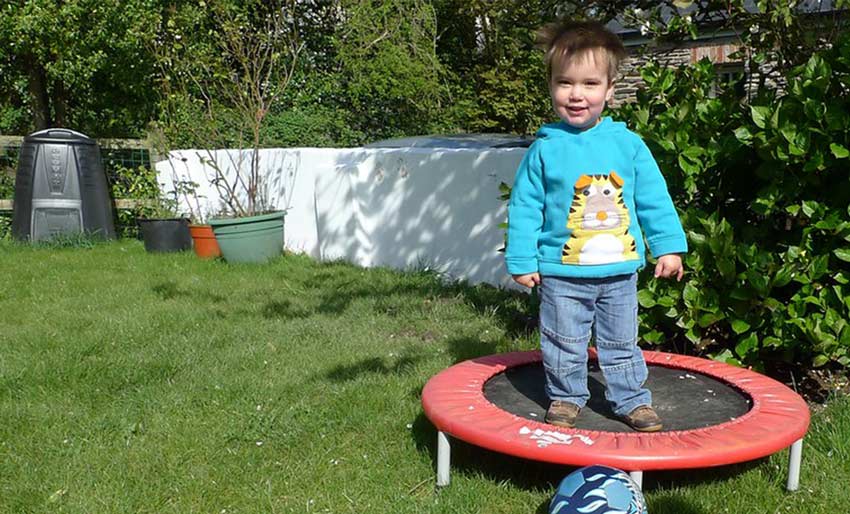 Which mini trampoline is the best for exercise?
The best mini trampoline for exercising always comes with a high load capacity. Plus, there will be a handle to control jumping.
There are so many mini trampolines on the market. However, from my in-depth research I'd say you can start with the RAVS Mini Trampoline for Kids and Adults.
Is mini trampoline good for exercise?
Why not? If a trampoline has a good load capacity and doesn't make a sound then it is ideal for exercising. A mini trampoline can be used in the gym, indoor, outdoor yard, and any place. Ultimately, they are more versatile.
How much does a mini trampoline cost?
You can get a mini-trampoline at a variety of prices. Generally, you have to spend $50-170 for getting a quality mini-trampoline. We have an ultimate buying guide with 25 great tips that you can follow before buying any trampoline.
How much weight can a mini trampoline hold?
The weight capacity depends on the overall construction. Some small-size trampoline can hold only 150 lbs. Again, some can hold over 500 lbs.
What size mini trampoline should I get?
The perfect size for a mini trampoline is between 36-48 inches (3-4 feet). However, if it is for a kid then even a 30 feet trampoline will be okay.
Can mini trampoline help lose weight?
Well, it depends on the quality of the trampoline, better use the best mini trampoline for adults. If your mini-size trampoline is okay to hold your weight and jump then you can perform different types of full-body exercises.
So, in the end, you will get solid muscle and lose weight even after regular 15 minutes exercising on a mini-trampoline.
Final Verdict
We are very long away from the beginning and now you have got a better understanding of the best mini trampolines. We all know trampoline is good for exercising. And today, we have reviewed 6 products and among them, we would suggest – "RAVS Mini Trampoline for Kids Adults." Whether it's for a kid or a senior it's an ideal item.
However, the other 5 products are also furnished with all the necessary features of a high-quality trampoline. So, hurry up and make your choice before your favorite product turns into an unavailable product.