Trampoline rebound is the best way to work on your cardio from your backyard. I was astonished to see the health benefits of rebounding outweighs jogging, hiking, cycling, and even intense running.
That's why manufacturers are tweaking their trampolines to make them more appealing. That's why the once simple trampoline market became more competitive than ever. You'll find different types of trampoline that suit and serve different purposes.
That's why we assembled a proper trampoline buying guide just for you.
As any buying guide for any products and services, a trampoline buying guide is focused to give you tips on buying the best trampoline possible for your needs.
You should look for key aspects like the build quality, galvanized steel frame, jumping mat surface quality, spring and screws, spring-based or springless, shapes and sizes, etc.
I hope our efforts should be enough for you to get the best trampoline possible. Also, you can read about some of the pros and cons of trampolines before buying one for yourself.
Trampoline Buying Guide
Buying a trampoline is the same as buying a mini house or a car. You have to consider how you are going to place it, install it, maintain and last but not least, your budget.
There are more things to look out for like the age recommendation of the user, the maximum weight limit of your chosen trampoline model, the total spring number, and most importantly, safety net enclosures.
If you are looking to learn how to choose a trampoline, then you must watch out for the following aspects.
1. The right Trampoline Shape
Over the years, especially after the burst of internet communication, the trampoline is being labeled as unsafe. But then again, every sport or recreational activities have some safety concerns.
It is we who don't research enough before buying a trampoline. As an example, the shape of the trampoline depends on the type of activity you are looking to do.
If you prefer just recreational rebounding then the round trampoline should be good enough. But if you want to do some gymnastics then go for a foot round or rectangular shaped trampoline.
Ladies however are more comfortable on square shape trampoline. And people who are looking for health benefits tend to lean on mini-trampolines.
You can buy three shapes of trampoline right now.
Round trampoline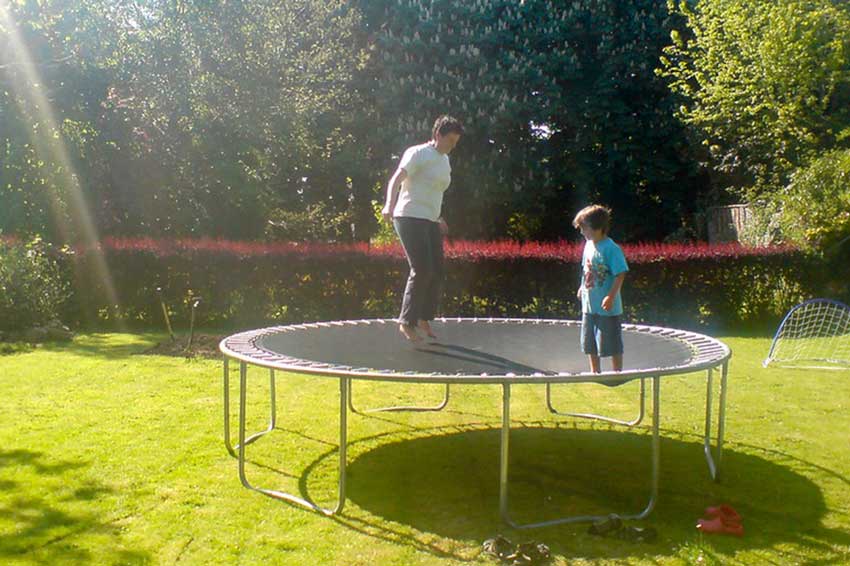 This trampoline shape is the most go-to choice for everyone. Round trampolines are the best choice for beginners. It's also safer than other trampoline shapes because of its centered gravitational pull. So the rebounder can achieve the most height from jumping in the middle of the trampoline.
Round Vs Square trampoline
If you want to bounce higher, the square or rectangular trampolines are the best. Because when you rebound on a rectangular or square shape trampoline, the sprigs are less stimulated. Not all the spring will be stressed when you bounce on a rectangular shape trampoline.
Whereas in the round trampoline, every spring is stimulated when you bounce. Have you noticed a certain pull towards the middle of the mat when you jump on a round shape trampoline?
This happens because the round trampoline has a center of gravity right in the middle position. That's why your bounce will be smaller in a round trampoline as you move away from the center.
Oval shape trampoline
An oval or square-shaped trampoline is getting popular for its safety features. It's also popular amongst gymnasts and enthusiastic rebounder. Unlike the round trampoline, oval-shaped trampolines don't have a center of gravity pull.
So the springs are stimulated only at the bouncing spot. This allows the user to jump higher regardless of the jumping spot. So the bottom line is, you'll get the highest bounce in the middle and equally higher bounce from the edge of an oval-shaped trampoline.
2. Trampoline size- Which trampoline size is perfect for me?
Trampoline size will vary depending on the bouncer's age and weight. After selecting the shape, you should consider the right size of your trampoline.
I recommend that regardless of whoever uses the trampoline, it's better to go for the bigger size. Because big trampolines tend to be more sturdy, well-built, long-lasting.
So if you have the space to fit a large trampoline, go for it. And what is worth, bigger trampolines are safer than small trampolines.
But if you don't budget limitations then let me be more specific. The go-to trampoline size is 8 feet in diameter. Because in most homes, there is limited space in the backyard.
Families with teenagers should go for a minimum of 12 feet trampoline. Although 14-16 feet is the sweet spot. But size plays a major role here.
As an example, around 20 feet of the trampoline has nearly the same space as a 14 feet oval shaped trampoline. So you see, sometimes, shape matters more than sizes.
3. Should you choose a spring-based or springless trampoline?

In early 2005, one of my pals told me that he bought a trampoline that doesn't have springs. I thought he was joking until I saw that freak of a trampoline with my own eyes.
Later I researched I found out that a guy named Dr. Keith Alexander redesigned the trampoline and made it spring free.
Spring-free trampolines are more expensive than traditional trampolines. And for food reasons. People suffering from bad knees or other joint issues will find more benefits in the Springfree trampoline.
Is Springfree trampoline safe?
It offers low-impact rebounding compared to the traditional spring-based trampoline. They are more focused on a higher bounce than the gentle and soft rebound experience you will get from a Springfree trampoline.
The manufacturers of Springfree trampolines believe that their trampolines are much safer than traditional trampolines. The first reason is the use of fiber poles instead of metal springs. That's why you should consider buying a Springfree trampoline for your kids. Although they cost more it still doesn't even come close to the hospital bill you might have to pay.
Springfree Vs Spring-based trampoline
If you want the best quality trampoline, you should consider buying a Springfree trampoline. Spring trampolines, however, also offer decent quality with potential risks.
Most of the spring trampoline has metal springs covered with padding. But there's still dangers of misplaced cover or jumper impale through the protective padding and get injured.
How does a Springfree trampoline work? 
There are two things absent from a Springfree trampoline.
Metal or spring coil spring underneath the trampoline Matt.
Those hard galvanized steel or metal perimeter frame.
The Springfree trampoline has rods that surround the edge of the mat. They are soft enough to get 450 mm low to create an elastic force that results in the rebounding effect. Notice that there's nothing underneath the trampoline that interferes with the kinetic energy.
4. Indoor trampoline
If you don't have space in your backyard but still want the thrill of rebounding on a trampoline, then go for the best indoor trampoline in the market today.
You have to check several facts before buying a trampoline for indoors.
Your floor should be at least 12 feet or higher from the floor.
Don't place the trampoline underneath the ceiling fan or lights.
Choose a mini rebounder. They are excellent for indoor rebounding and offers more health benefits than a standard-sized trampoline.
Choose a trampoline that has a lower recoil spring so you don't have to worry about extra elastic force and kinetic energy from the springs.
If you have a big living room with at least 10 feet diameter space to spare, then perhaps get a Springfree trampoline. They are safer than traditional trampolines. They tend to last longer and offer a more gentle rebounding experience than the spring-based trampoline.
Adults should choose a mini trampoline and parents should buy their children the best indoor trampolines for kids with holding bars.
5. Different types of trampoline
You'll find many kinds of trampolines for sale nowadays. After 2013, manufacturers started to market different types of trampoline to target specific customers.
Today, you can choose from seven different types of the trampoline. Each is suitable for certain groups of people with a certain age and weight limits.
Some trampoline offers higher bounce and some offer safety and more balanced rebound. Here are those seven types of trampolines you can choose from.
Round trampoline
Square trampoline
Children trampoline
Rectangular trampoline
Springfree trampoline
Water-based trampoline
Mini trampoline/Rebounder
6. Trampoline Frame
The quality of a trampoline frame depends on its longevity. If you want to use a trampoline for a long time, investing in a heavy-duty trampoline isn't enough.
You need to follow a proper maintenance pattern to ensure its longevity and durability. Traditional trampolines are made from metal to keep the price tag reasonable.
But for durability, look for a trampoline that has a steel frame with a galvanized or black powder finish both inside and outside. These layers will protect your trampoline from water rusting, UV, and other damage endurance from harsh weather conditions.
7. Weight limit and stability
The weight capacity of a trampoline depends on the thickness of its frame. The typical diameter of a trampoline frame pipe is 35-38 mm in diameter with 1.5 mm thickness.
Trampoline frame pipe with higher diameters has better weight capacity.
In some countries, trampoline weight capacity needs to meet certain standards. As an example trampolines in Australia need to be strong enough to withstand 5 times the manufacturer's recommended weight capacity.
So if a trampoline maxed out at 200 lbs weight capacity, they need to be able to carry 1000 lbs of static weight to be sold in Australia.
And the stability of a trampoline depends on the total number of legs. A trampoline with six legs is more stable than a four-legged unit.
8. Rate the bouncing capacity
The quality of the spring will determine how bouncy and smooth the trampoline feels like. After assembling the trampoline, you have to check the alignment and positioning of the spring for a better bounce and longer trampoline life.
9. Warranty and after sell services
A renowned manufacturer will provide at least 5-years of frame warranty. The warranty on other replaceable parts may vary. Apart from quality warranty service, you should also research their response time and replacement efficiency in the trampoline users review.
A lot of manufacturers play a monopoly with customers regarding spare parts. Sometimes they don't have efficient supplies. Also, some manufacturers don't put out prices for specific parts. So they can charge higher prices when you'll specific parts.
Please read carefully about the warranty policy. Each manufacturer covers their warranty service in different ways. Look for the warranty void policies and avoid doing those things.
10. Trampoline mat material
Most of the trampoline's jumping mat is made of woven fibers. It's a sheet of canvas that forms out of thousands of polyethylene and nylon fiber strands.
Now the key things to look for are the thickness of the fabric, the stitching quality, how it's conjoined with the springs, or in the case of spring free trampolines, those soft rods at the edge of the mat.
Don't worry about waterproofing. The woven fabric itself is waterproof. Besides the end product comes with a lot of finishing touches that enhance it's waterproofing even more.
11. Safety net enclosures
Some trampoline comes with a safety net, and sometimes you'll have to buy and install it for yourself. Before you buy the safety net, make sure it's made of polyethylene.
Because polyethylene prevents organic development such as bugs, gems, bacterial and fungal growth. It also resists other environmental materials like moistures and dust.
That's why PE net lasts longer without ever needing any thorough cleaning. Also, make sure it's coated with UV protectant. Unless you plan to keep the trampoline indoor, you must choose a net that is resistant to UV.
Avoid safety nets that are made from polypropylene and polyester due to their rigid nature. Because these materials aren't elastic enough to absorb shock. That's why should anyone ever collide with the net, the impact will feel like hitting a wall.
The problem with polyester and polypropylene elevates even more when they are damaged. As they begin to tear, the sharp edges protrude out and might cause deep cuts.
12. The safety net doorway
You might not pay attention to the safety net entrance zipper which has to feature reinforced stitching to prevent damages from repeated use and abuse. It makes perfect sense to have zippers both inside and outside for safety purposes.
13. Strong bottom closing
How many times we've seen kids rolling out of the safety net bottom enclosures on YouTube? To prevent this, make sure the net is attached well with the trampoline, especially at the bottom area.
So manufacturers ditch the old school edge attachment and went underneath the trampoline and locked it. So those loose sports had the support of the trampoline base.
Another beautiful and simple design is the v-ring spaced a few inches apart that houses a heavy-duty rope that runs through the net's whole perimeter. So there is barely any space to skip through even a limb of a child.
14. Safety pads for the metal edges of the trampoline
No matter how expensive or cheap your trampoline is, the basic design will be the same. There will be metal or steel springs and screws surrounding the trampoline to support the jumping mat.
I've seen people using their trampolines without covering the metal parts. Shockingly, some folks let their kid on the trampoline with these exposed metal parts.
There are so many injuries you could end up facing. You might bounce awkwardly and land on these springs and screws. Your hair could get stuck. Even worse, your kids' arms or legs could get stuck between the springs.
That's why you have to cover the edges with a safety pad. It ensures safety from the metal edges and prevents you from hard impacts. Even if you ditch the ladder, safety nets, there's no substitute for the safety pads.
15. How much money do I need to buy a trampoline?
The amount of money will depend on the size, type, and brand of the trampoline. A decent 14-15 feet quality family trampoline should cost around $300-$1000.
I think the sweet pricing spot is in between the $500-$700 range. Because you'll get sturdy frames, popular brands, reliability, and longevity. If you have deep pockets then go for something more robust.
Let's not cheap out if you're buying a large trampoline. Because cheap trampolines tend to break and become unstable and unusable pretty fast. In a way, you'll lose the entire investment because there won't be any significant resale value.
Necessary trampoline accessories and replacement parts
Here are some parts that might need to be replaced from time to time. However, these accessories' lifespan will depend on your maintenance.
Replaceable parts
Necessary accessories to enhance your trampoline experience
You have to consider these facts before buying a trampoline
You're brainstorming about every aspect of the trampoline buying guide. But there are things to be done before buying a trampoline.
1. Choose the right manufacturer
We always look for brands before buying a smartphone or a car but are you considering the best trampoline brands before buying a trampoline?
Popular brands like Skywalker and Vuly Thunder should be your top of the line of choice. But user reviews play a major role in deciding on a certain brand and model.
You can also visit the brand website and browse around to see people's ratings and reviews. Also, check out how they operate and respond regarding warranty and customer services.
2. How much space do I need for a trampoline?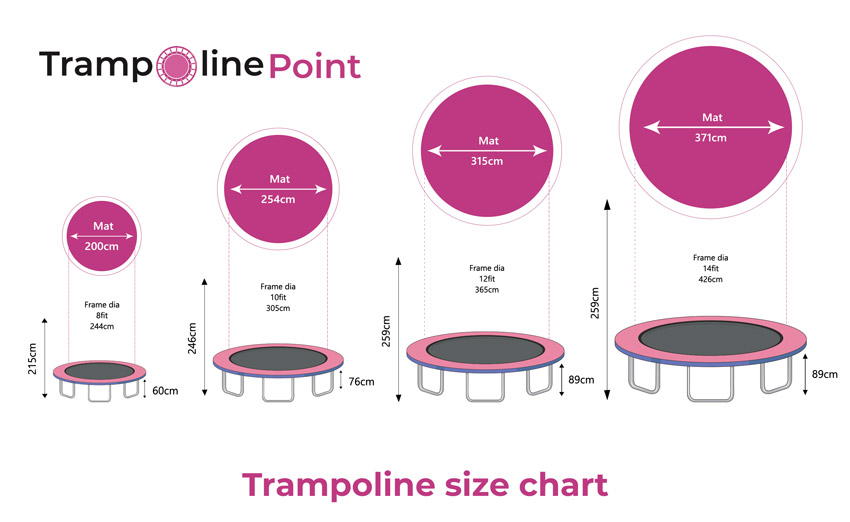 The amount of required space will depend on the size and type of your preferred trampoline. If you decide to get a mini rebounder. You can place it anywhere from your living room to your bedroom, and even on your balcony.
For a standard 8-12 feet trampoline, you must have at least 400 square feet backyard. Also, make sure that your trampoline has more than 6 feet of space at every side.
3. What type of surface should I put on the trampoline?
The ideal surface for a trampoline should be on grass and soil. But what about indoor trampolines? Well, in the case of a mini trampoline, you can place it on a rug or carpet.
And large indoor trampolines should be placed on a soft textured surface like a rubber mat or some sort of floor padding.
A soft surface is important for absorbing the impact energy generated from repeated rebounding. But on the hard surface, the impact isn't absorbed and channeled back to the trampoline frame. That's why you will notice a little rocking issue.
4. Safety specifications
Never compromise on safety features. Right after you decide on a specific trampoline model, browse through the specification to see it's safety features. Not all trampolines include safety tools.
If your preferred model doesn't have the necessary safety features, you should consider a budget to buy these items separately. Because hospital bills would be a hundred times more than the price of these trampoline safety kits.
Your chosen trampoline model must have-
Corrosion-resistant springs, screws, and other metal parts.
Galvanized steel frames are durable and long-lasting.
If there's an included net enclosure, make sure there's no gap at the bottom part where the net meets the trampoline edge.
Padded cover for springs and metal parts at the trampoline edge to prevent accidentally falling on them.
5. Handlebar for kid's trampoline
According to the American Academy of Pediatrics, the right age for trampoline use for a kid is six years. But some folks buy a trampoline for their children when they are around three years old.
Is a trampoline safe for toddlers or not, that's entirely up to you. But you cannot buy a trampoline for your children without a handlebar. Even some mini sports rebounder comes with a handlebar. And those trampolines are for adults.
Should you buy a second-hand trampoline?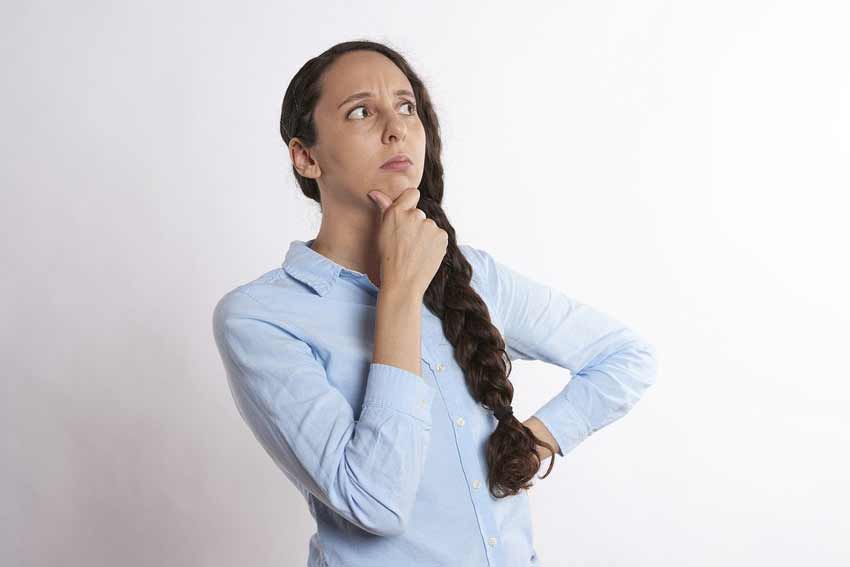 Buying a second-hand trampoline might save you some money. But you'll never know how it was used by the previous owner. What if the trampoline was overloaded?
Sure trampolines can withstand load several times more than the recommended weight limit. Still, repeated overloading might cause permanent structural compromises.
It's impossible to comprehend such structural weakness until the trampoline breaks down during rebounding. Let's hope that never happens. Because the possibility of serious injuries is very real. It's not worth the little money you're trying to save.
Things to look for when buying a second-hand trampoline
As a long time trampoline user, I don't think it's a good idea to buy a used trampoline. But folks with a limited budget and with the desire to rebound on a trampoline should look for certain things before buying a second-hand trampoline.
1. Why should you inspect the jumping mat before buying a second-hand trampoline?
See if the mat has been replaced or not. It's difficult to decide anything conclusive by visual inspection alone. Try searching online with the trampoline brand and model name. See If the color of the mat matches with the one you're trying to buy.
Sometimes the jumping mat gets so damaged, that needs a replacement. Make sure to negotiate the asking price if you need to buy a new jumping mat.
2. Look out for spring displacement
When you're testing the bounce, see if it feels a bit soggy and mushy. Over the years, repeated impacts on the trampoline spring misalign them. That's an indication for spring replacements.
3. Inspect the frame condition
You'll see some second-hand trampolines are on sale for a ridiculously low price tag. It's a tempting proposition but you have to understand that once a trampoline frame gets damaged, replacing that damaged part might not be a good idea.
Because the trampoline may never retain its previous balance, durability, and perfect weight distribution. You won't notice the difference if it's our first trampoline. But folks who already had a couple of trampolines will feel the problem.
Every manufacturer has different sized interlock phases to connect parts. If one of these parts gets damaged, you'll need the same part from that specific manufacturer to make the trampoline functional again.
You also need to check for rusting especially in the legs of the trampoline. If the trampoline frame is of poor quality, you'll see damage marks in the holes from its spring.
4. How's the condition of the spring cover padding?
Safety paddings are easy to replace. Because they are easy to source. But you should inspect the safety padding only if the frame and the spring are sorted out.
If you need to replace the padding, check if the trampoline has any safety net enclosure poles or not. There'll be big pole holes surrounding the trampoline edge, you won't miss it. Just make sure to order the right diameter and safety net compatible padding.
5. What is the condition of the safety net?
You won't find a safety net included with a second-hand trampoline. However, if you do find one, please inspect them for tears and holes. If the quality of the net isn't in a usable condition, try to exclude it from the trampoline to reduce the asking price.
Buying a safety net for a second-hand trampoline can be confusing. You have to check for the total number of trampoline legs. You can measure the distance between the legs to determine the diameter of the safety net. But that's not necessary since the owner already knows the model and diameter of the trampoline.
Beware of older rectangular trampoline though. Buying an off the shelf safety net might not be compatible.
Closing statement
This trampoline buying guide may look like a lot to take in. But I think it's worth brainstorming for 20 minutes before investing hundreds of your hard-earned dollars.
The thrill of the trampoline is becoming a trend in America. In almost every gym, you'll see a couple of rows of trampolines for us to bounce our hearts out.
And those with a large backyard want to experience the thrill and health benefits of rebounding from the comfort of their home.
Don't just click some random trampolines for sale. Understand what to inspect, whether it's a new or a used trampoline.
This article aims to give you some organized perspectives. Hope we've done our job. But if we missed something, please let us know below the comment section.
Stay safe, and bounce for glory.