Neither too big nor too small – an 8 ft trampoline is an ideal size for a medium or small backyard. If you have a small or medium backyard and are searching for the best trampoline I must suggest an 8 ft trampoline.
They are easy to assemble, easily portable, and generally lightweight. 
However, you may be confused about the best 8ft trampoline. I know it's overwhelming to choose one among hundreds. No worries, today I will break down the best 8 ft trampolines. 
However, If you are interested to know more about the 6ft and 7ft trampoline then check out this top 6ft and 7ft trampoline review and guide.
So let's get started
The first on the list comes from Skywalker, a renowned trampoline brand. If you are looking for an 8 ft trampoline for your kid then you should opt for this highly secured trampoline. The trampoline is perfect for kids or adults from 6 above. You can use them for kids of 4-5 years old under direct supervision.
The good: The first thing you will love is the trampoline frame. It is covered with soft paddings that will keep you away from springs and let you experience the best jumping ever. Also, the curved enclosure system makes it 100% safe for kids.
The no-so-good: The weight capacity of this trampoline is 175 pounds. It means the kids and teenagers can use it perfectly. Unfortunately, you can't enjoy jumping together with your friend/kid at a time.
The summary: It's a trampoline of ideal size. It has the dimensions of 8 x 8 x 6.5 feet. Assembling the trampoline will be easy. All over comparing everything with the price, this trampoline is a good value for money.
The best: You will never face the frame twisting problem as the enclosure frame is connected to each leg of the trampoline through T sockets. I know that's a relief. Another addition is the button hole system that ensures a direct connection between the jumping mat and the enclosure frame.
Is it for you? If you have kids to handle then this is okay for you. At a time 2 kids can play on it. If you are an adult but not so healthy then you can also use it for regular exercising.
Another one from Skywalker and this one is even more functional comparing with Skywalker 8-Feet Round Trampoline. Made of a sturdy steel frame the trampoline is highly durable. Again, it includes 56 long springs of 5.5 inches which makes the trampoline more secure.
The good: Something exceptional about this 8ft trampoline with enclosure is the addition of a basketball hoop and a soft basketball. Take you jumping to the next level by playing basketball. Another great thing is the enclosure system. It is made of premium net and the enclosure frame pole is covered with foam padding.
The not-so-good: I found no serious negativity in the trampoline. But the thing that may bother you is installation. I recommend 2 people should install it and it will take around 30 minutes. One more thing is there is no 8ft trampoline cover included with the product.
The summary: Surely, you will love the trampoline as it is smooth and flexible. There is no chance of getting hurt. Moreover, it's an 8ft trampoline with basketball hoop. The additional basketball hoop makes it more enjoyable. An adult can also use it for exercising.
The best: The best thing is the no-gap enclosure net feature. So, it will protect the kids from pinch points and openings. Again, the trampoline exceeds the ASTM standard. On top of that, the vinyl-coated, fade-resistant spring paddings make it more comfortable.
Is it for you? The load capacity of the trampoline is approximately 175 pounds. So, the kids, teenagers, or an adult can play on the trampoline. Again, it is appropriate for both indoor and outdoor use.
Among the all popular brands of the trampoline, Giantex is a gem. The trampoline I am talking about now is available in different sizes. With versatile sizes, the trampoline has steel frames, sturdy springs, U-shaped legs, an enclosure net, and a comfortable spring pad. Let's dig in to see the details of this item.
The good: This trampoline has multiple features to fascinate you. The trampoline comes with a ladder, so that little kids can get up on the trampoline surface easily. Plus, the U-shaped legs of this trampoline help to distribute the pressure to the whole trampoline.
Another biggest highlighted point is, it comes with an enclosure net. If you compare this with others, the net is firmly attached to the supporting poles. So, don't worry if your little monkeys jump on the trampoline wildly, they won't fall outside of the trampoline.
The not-so-good: I haven't found any bad or negative reviews about this product so far. But some customers stated that, as the spring area is inside the enclosure net, it sometimes hurt them while jumping.
The summary: Giantex produces all the highest quality products with a friendly budget. The steel sturdy frame of this trampoline is galvanized to prevent rust. All the springs are covered with a soft pad so there is no chance to get a pinch on your skin. Moreover, assembling this item is quite easy, you just have to follow the steps given in the instruction manual.
The best: This trampoline was constructed with the best quality steel to hold the sturdiness and give long-term service. T-sections are securely attached and make the trampoline surface stable. Moreover, the 8ft trampoline net makes it more secure.
Is it for you? If you are a heavy jumper or you want to jump on it with your kids or friends, then it's for you. In addition, it has a large surface, so multiple people can jump on it too. The trampoline can hold a maximum of 350 pounds.
How many springs on a trampoline?
As trampolines are available in different sizes, so according to the size, the necessity of springs varies. For an enjoyable and happy bouncing time, spring is mandatory. There is also variety in spring size too. They come in 5.5″/6.5″/7″ or 10″ size according to trampoline size. 
For an 8Ft trampoline – 60 springs will be needed.
For a 12Ft trampoline – 72 springs will work.
For 14Ft trampoline – 96 springs are mandatory. 
For the 15Ft trampoline – 96 springs are used.
For the 16Ft trampoline – 96 springs are used
Is an 8ft trampoline big enough?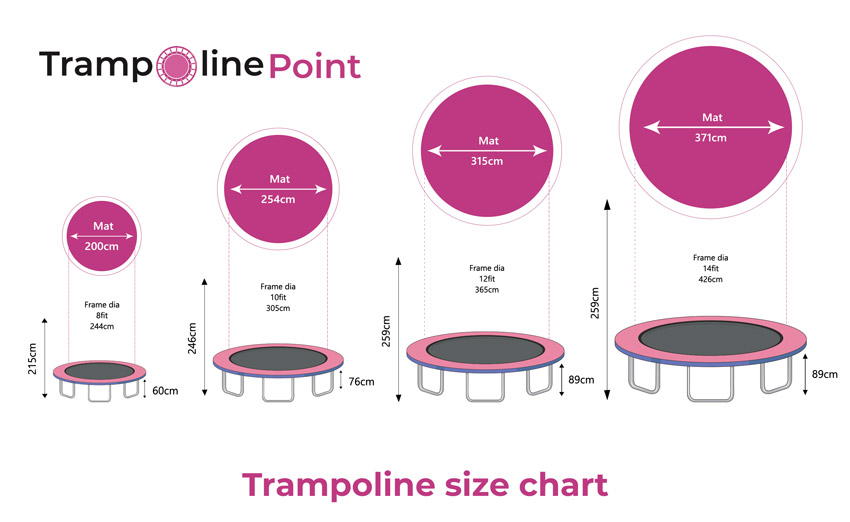 There are trampolines of different sizes from 6 feet trampoline to 16 feet+ trampolines. Now comparing an 8 ft trampoline with them I don't say it's big enough. Well, if 2 kids want to play inside the trampoline then it's big enough. Again, for 2 teenagers there will be a space shortage. 
Many of us use trampolines for exercising as there are huge health benefits of exercising on a trampoline. If you are also planning to get a trampoline for exercising then an 8 ft trampoline is ideal. But before getting one make sure to check the ultimate buying guide.
How to assemble an 8ft trampoline?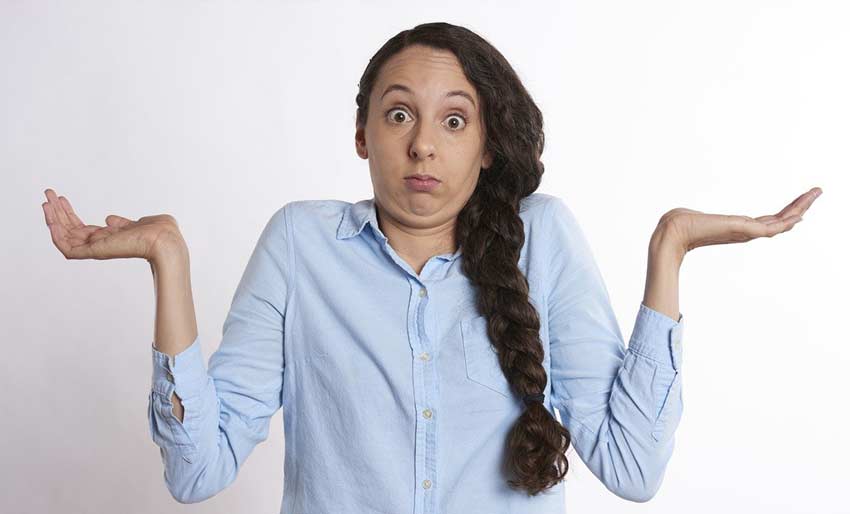 Assembling an 8ft trampoline is a bit complicated. You need at least one helping hand and around 30-60 minutes. Here get the steps shortly.
Thing you need
Toolbox
Screwdriver
Every part
Spring puller tool
Step by step guide
Gather everything you get with the trampoline.
Set the trampoline frame by connecting every joint.
Attach the mat and springs to the frame.
Set the enclosure along with the 8ft trampoline with a safety net.
Install the ladder and other secure kits.
Jump on the trampoline for a minute, make sure it has been assembled securely.
Caution: While setting up the mat, get a good hold of every corner of the mat. Otherwise, it won't stand properly.
What size springs for an 8ft trampoline?
Just like I mentioned before if you want to replace your trampoline springs because they are worn out. Then, you must be careful of the sizes of the springs as well as the dimension of your trampoline. If your springs are covered with a soft mat, then it will last quite long.
Now, let's talk about spring size. Maximum time, in between 5″-10″ sized springs are used for any kind of trampolines. Always remember, try to avoid springs below 7 inches. Shorter-sized springs can affect the bounce on your trampoline. 
How many springs on an 8ft trampoline?
The average size of a trampoline is 2.43 meters or 243 cm in diameter. Those trampolines can hold a maximum of 75-100 KG weight at once. So, according to all of these features, an 8Ft trampoline will need 48 springs or 62 springs. As they are smaller in size, they need fewer springs and the size of the springs is also smaller.
What is the best 8ft trampoline on the market?
The best 8 feet trampolines come with some essential features. If you are aware of the features then you can judge which one is a quality one. Here I am explaining some points in short.
1. Durable and Comfortable: The first thing to consider is how durable the trampoline is. But sometimes durability makes things uncomfortable and harsh. So, getting a comfortable trampoline is necessary. For that get one containing a soft jumping mat and the frame covered with padding for an 8ft trampoline.
2. Easy to Assemble: Some trampolines cost lots of your time for installation. Choosing such a trampoline is a foolish decision. Get one that is easy to assemble and takes not more than 45 minutes. 
3. Load Capacity: The best trampoline comes with a good load capacity. However, it's under your consideration. If you want you can get one with a capacity of 150 lbs again you can find some with the capacity of 250+ lbs. I think the ideal 8ft trampoline weight limit is 175+ lbs.
4. Budget-friendly: The next thing is the price. You can find a trampoline from a cheap price to a highly expensive price. I suggest getting a brandy one with a mid-budget. 
Final Verdict
I have reached the final section and I have already explained the review of the 3 best 8 ft trampoline in the market. Aside from that, I have discussed some related sections which will be essential if you want to get a quality trampoline.
However, check out the load capacity and install systems and figure out for whom you are purchasing it. That's it for today, now it's your time to choose 1 of the best 3.
However, if you want my personal opinion then I'd suggest you choose the Skywalker Trampolines which comes with the Enclosure Net and Basketball Hoop.