If you think you're going just to buy the best trampoline possible and start bouncing, then you're wrong, my friend.
There are a lot of things to consider before purchasing a trampoline. Choosing the right size is the most important of them all. That's why I made a simple trampoline size guide just for you.
The right trampoline size depends on your budget and uses case.
Whether it will fit in your grade, not backyard, who'll be jumping on it and your chosen space are free of obstacles, land slopes, holes, and hard objects. And at least 1.5 meters of space on each side of the trampoline.
Once you decide on all these factors, then you may choose the best trampoline size for your yard.
Trampoline sizes guide in age categories.
| | |
| --- | --- |
| Age | Trampoline sizes |
| 1 year old | Mini/ toddler trampoline |
| 2 years old | Mini or toddler trampoline |
| 3 years old | Mini or toddler trampoline |
| 4-5 years old | Mini/ 4.5 ft / 6 ft/ 8 ft trampoline |
| 5-7 years old | 6ft/ 8ft / 10ft / 12 ft trampoline |
| 8-10 years old | 8 ft / 10 ft / 12 ft / 14 ft trampoline |
| 10- 12 years old | 12 ft/ 14 ft / 16 ft trampoline |
| 13- 16 years old | No less than 14 ft- 17 feet trampoline or above |
Before you get excited and press the buy button, please think about the place you're going to put it.
Can you supervise all the time when your kids are on the trampoline?
Have you decided on a budget yet?
Do you whether your chosen trampoline has any safety certificates?
Are you buying the safety enclosing nets, ladders, and anchor kits? It may seem like I'm exaggerating, but you're going to have to arrange all these before or after you buy the right size trampoline. Speaking of the right size, do you know what trampoline size will fit in your backyard?
We have answered all these questions below. Please feel free to have a look and choose the right trampoline size for you and your loved ones.
Best trampoline size by age and why
I know that list makes everything clear between the age recommendation and trampoline size. But it doesn't say why. Let me answer those questions for you. So that you can choose the best trampoline for you or your kids.
What is the best trampoline size for a one-year-old?
Choosing the best trampoline for a one-year-old isn't that hard. Because size doesn't matter here, it's how the one-year-old will hop onto the trampoline that matters.
You need to install a ladder for that. Don't go for the cheapest one, though. Those cheap ladders will go wrong and break sooner than you think. So you should go for a renowned trampoline ladder for safety and longevity.
Also before choosing a trampoline for your kids you can check out the below article that I have written for you.
Please make sure the trampoline ladder has a padded handle.
What is the best trampoline size for three years old?
There are a couple of things you'll have to account for. If you have a single three years old, then 6 feet trampoline is a standard choice only If you don't plan on using the trampoline together at the same time.
So 6 feet is for solo sessions. But 8-10 ft is the best trampoline size for the three of you.
What is the best trampoline size for four years old?
Choosing the best trampoline size for four years old is a tricky business. You can't either go with a mini-trampoline or bigger ones. The best trampoline size for four years old is 6 feet. Don't try to squeeze the trampoline into a corner though. Make sure to leave at least a meter of free space around the bouncy bowl.
What is the best size trampoline for five years old?
Never set up a trampoline without installing safety nets and padding, especially for five years old. And the best size trampoline for a five year old should range between 6-8 feet at least. 
What is the best trampoline size for six years old?
I think the best trampoline size for six years old should be at least 10 feet. Not a single feet shorter. But if you don't have enough space to set up a 10 feet trampoline then don't bother buying one.
What is the best trampoline for seven years old?
As these kids get older, their body balance and consideration also sharpen. And their will to test the limit and relentless curiosity what makes them a risk on a trampoline. 
In my opinion, the best trampoline size for seven years old shouldn't be anything lower than 10 feet. However, if you have enough space to set up 12 feet or an even more giant trampoline, please do so. And don't forget to install all the safety nets and paddings.
A serious design flaw should be addressed when installing the safety nets. Make sure that the net is not loose from pole to pole. If it stays open, then landing on edge on the trampoline may cause your kid to slip out of the net and onto the ground.
What is the best trampoline size for eight years old?
The perfect trampoline size for a six years old should be at least 12 feet. But you should get a 14 feet trampoline if you have space for it. Please set up the trampoline away from any obstacles and hard objects to avoid serious injuries.
What is the best trampoline size for nine years old?
I think a 12 feet trampoline is an ideal. But you should get a giant trampoline on the market today if you can fit it in your yard. If you don't, then an eight feet trampoline can be enough. Because a nine years old have reasoning power to identify any risky outcomes.
So you can go bigger or lower models. But the problem of a smaller trampoline is limited space. And if you have two or three kids, then they won't be able to jump together to have the time of their lives.
What is the best trampoline size for ten years old?
The ideal trampoline size for a ten years old should be at least 12 feet. But you can also consider a 14 feet model because kids at this age like to bounce around the edge of the trampoline to do a front or backflip.
Now if you notice your kid trying to make these gymnastic moves please make them stop. An awkward landing even on the trampoline could lead to permanent physical injuries.
What is the best trampoline size for eleven years old?
As your kids enter the realm of the teenage era, buying the largest trampoline should be the best decision. These trampolines are expensive, but they are durable and last longer than your average Joe's.
I think anything above 15 feet is enough for teenagers to enjoy a trampoline party with their friends.
Here I have written an in-depth user review based on a real user suggestion. You can take a look at this best 16ft trampoline for your backyard.
What is the right age for a trampoline?
You can argue with my opinion. But to my understanding, the right age for a trampoline is six years old. Don't take my words for it. The American Academy of Pediatrics and the American College of orthopedic surgeons recommend that a child shouldn't be jumping on a trampoline before the age of six.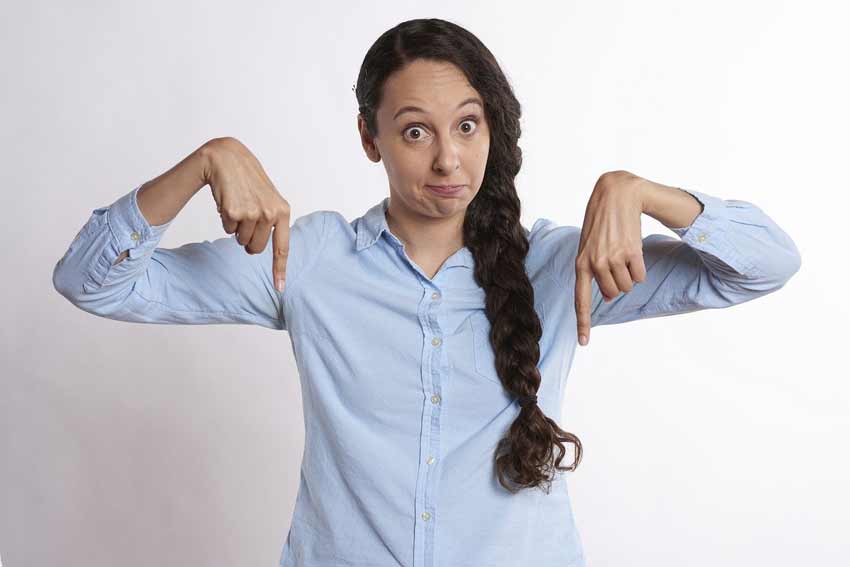 Things to consider before buying the right trampoline size
Before you decide on a trampoline size, it's best to consider some facts. So you don't end up with a trampoline more giant than you need. But to me, bigger is always better.
But we can't let our emotions get the best of us. We have to act smart and decide how we can fit another mini room in our property.
How much space do you have in your yard?
The golden rule of choosing the right trampoline size lies in your backyard. Grab a measuring tape if you have one and start measuring.
Please exclude those fences, bushes, branches, slopes, and debris to get the right trampoline size idea. Don't pick a trampoline size that will fit your backyard without having at least 1.5 meter spaces clear at each side.
This extra free space is for security purposes, so you don't end your neighbour's bushes or in the pool. But on second thought, that would make one hell of a trampoline fail video clip.
Jokes aside, here are a few spots best for your bouncing bowl.
You'll have to make sure the chosen space is flat and even. If not, then do not install your trampoline if the slope is higher than 3 degrees across the entire area.
Get rid of any debris, obstacles, and even up any potholes in that area.
Also, watch out for any cables of tree branches overhead. If there is some important stuff that you can't get rid of, then make sure it is higher than 6 meters off the ground.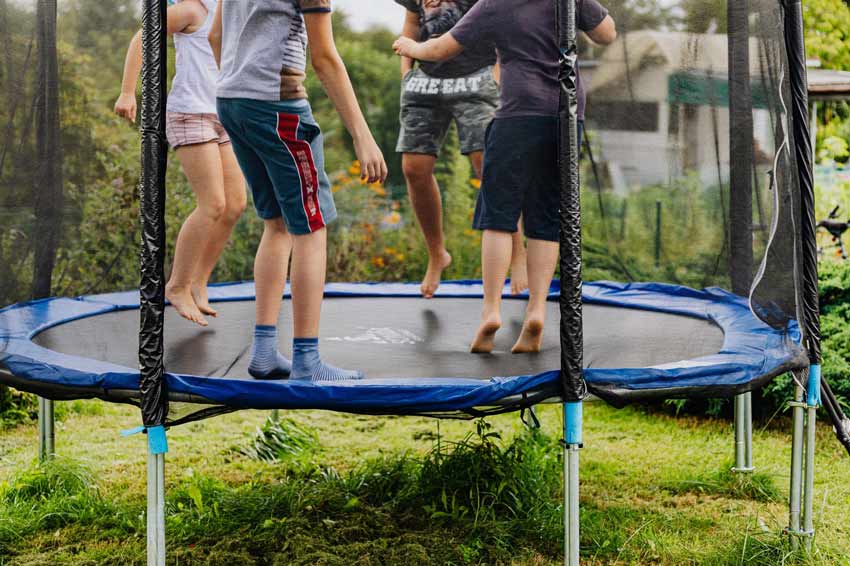 How many people will be jumping on the trampoline?
You could have a family of 12, but everyone is ok to use the trampoline one person at a time. If you think your family can use the trampoline in an organised way, then choose the model with the general size of 8 ft in diameters.
Come on, who are we kidding here? The adults might use the trampoline desperately, but what about the kids? Besides you have to take in your families individual as well as combined weight into consideration.
My recommendation for a family trampoline is going big. Try not to save a few hundred dollars and put your family in danger of life-threatening injuries.
Suppose you choose a trampoline that has less weight-bearing capacity then you'll be bottoming it out while trying to jump higher. This could lead to ground impact during the rebound.
Look for a trampoline that has a longer surface if you have more than two kids. Because if they don't space out while bouncing, that could lead one of them to land outside of the trampoline.
Why do I need enclosures net for my trampoline?
You might be thinking what the link between the right trampoline size and safety net enclosers is? The connection depends on size. Let's say you're getting the 8 feet model. You won't have a lot of surface area available on size like that.
What if you rebounded awkwardly and bounced back away from your jumping point? What if you were jumping close to the edge of the trampoline?
Never underestimate the significance of a safety net for the trampoline. It's not the safest outdoor activity. Before you write off an idea to install a safety enclosure net, consider the cost of broken bones or something even worst.
The bottom line, install safety enclosure nets if your trampoline size is smaller than 10 feet and if there will be children bouncing on it.
What are the most popular trampoline sizes?
Now we have to identify the sweet spot for the best trampoline size. You must be wondering why this trampoline size is so popular? But first, let's find out what are the most popular trampoline sizes.
The most popular trampoline size ranges between 8 to 12 feet with a safety net enclosure.
Why? Because kids at home use trampoline most of the time. And the reason for owning a trampoline mostly focused on increasing the physical activity of these youngsters.
An 8 feet trampoline is compact enough to fit in any regular home backyard. It can support up to 72 kilogrammes of weight. So your four years old and 12 years old can enjoy a bouncy afternoon.
Please don't let your kids jump together mainly if their weight differs by a lot.
And 10 feet is the perfect trampoline size when the parent wants to join in the fun.
A few essential trampoline tips and Questions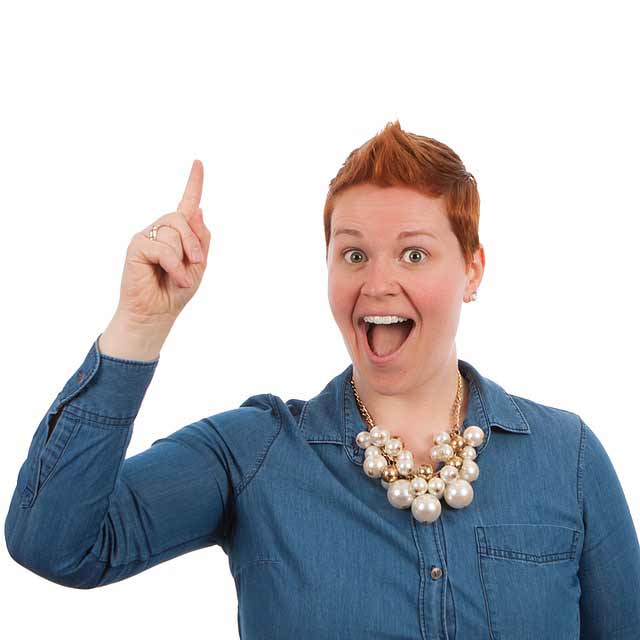 I know you came here to buy a trampoline. So I should take his chance to feed you some intel that might come in handy for your quest for a bouncy weekend.
Do you want a smart trampoline?
My god, I can't believe how manufacturers are implementing technological touch in everything. The smart trampoline trend will come soon. But for now, a manufacturer known as Springfree is offering an intelligent trampoline called "tgoma".
The kids love to interact with the digital interface of the trampoline. To track your performance, use the Bluetooth of your smartphone to connect with the sensor underneath the trampoline surface. These sensors will feed data into your screen by calculating your body's movement.
The comprehensive interaction of your workout will be useful for competitive activity on the trampoline. It'll also increase the time you spend on the trampoline.
What is the diameter of trampolines available today?
A trampoline rated 6 ft size is a little bigger. That's why put together a measurement list in centimetres to show the marginal difference.
A 6 feet trampoline is 183 cm in diameter.
Eight feet trampoline is 243 cm in diameter.
A 10 feet trampoline is 305 cm in diameter
The 12 feet trampoline is 366 cm in diameter
The 14 feet trampoline is 427 standard diameter
A massive 15 feet trampoline is only 457 cm in diameter
The largest 17 feet trampoline is 518 cm in diameter
Of course, you can easily calculate each models diameter. But we are trying to help you with this little thing too.
How high is a trampoline?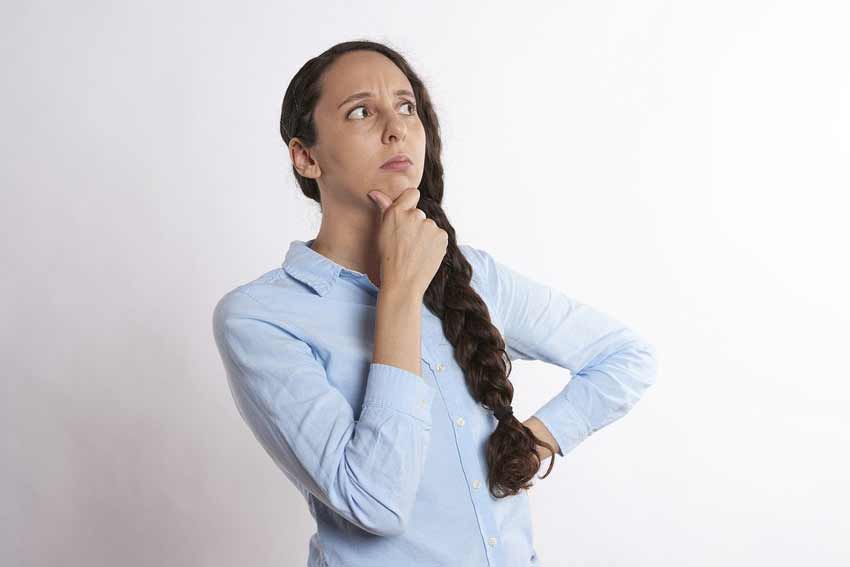 It completely depends on your chosen products. However, a trampoline height from the ground is usually around 2ft for small sizes trampoline 6ft to 8ft trampolines.
For a larger trampoline the average height from ground is 3ft.
A trampoline and its safety enclosing net should be rated EN-71-14 approved. To put the certificate in perspective, the trampoline surface shouldn't touch the ground from a rebound impact. However, the manufacturer won't be liable if you overload your trampoline. The same goes for the safety of enclosing nets.
Don't worry. The certificate is mostly essential for the buried trampoline.
What is an in-ground trampoline?
Also known as the buried trampoline, its installation requires you to dig a hole at least 25 cm deep which is equivalent of the trampoline size. Then you have to dig in an inner cavity in the middle which should be at least 60 cm in diameter. The hole should resemble a bowel's shape. However, the hole size will differ depending on the trampoline size.
Again we are listing height measurements of different trampoline sizes. So you can get an idea and prep your installation space accordingly and grab a trampoline ladder.
How to measure your back yard before purchasing a trampoline
Don't buy a trampoline without knowing whether it'll fit in your backyard or not. If you ever think about buying a trampoline than please measure your backyard first.
Step 1: Get a measuring tape. Then measure a string that is equivalent to the diameter of the trampoline you're going to buy.
Step 2: Now tie the string to a stick.
Step 3: Go out to the backyard and place the stick to the centre of the spot you want to out your trampoline.
Step 4: Once you impale, the stick holds the end of the measuring tape and move around the shaft while containing the string. This will give you a clear idea of whether your chosen trampoline will work for in your backyard or not.
How many springs in the trampoline?
The number of springs depends on the size of the trampoline. It also plays a significant factor to know whether the trampoline is suitable for what ages.
How many springs does a 14 ft trampoline have?
A 14 feet trampoline has 96 steel v-rings which mean there should at least 96 springs in it.
Why spring count matters?
The actual bounce of a trampoline depends on the size and number of spring. Let a three years old hop onto a 14 feet trampoline. That kid won't be able to bounce like he could on a 6 feet trampoline because larger trampoline has thik padding and sturdier spring.
What is the price of each trampoline size?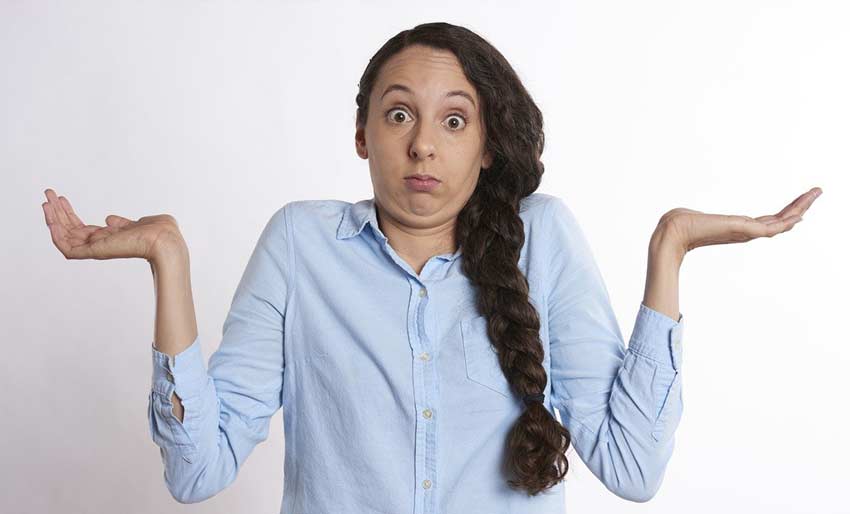 We all assume that bigger means more expensive. But that's not the case with everything. Trampoline pricing maybe seems outrageous and irrational.
You'll encounter many 12-14 feet modems cost less than an 8 feet model. It must be the premium build quality and the beans value of the smaller model that cranks up the price tag.
Why does the trampoline cost vary?
Not all trampolines are made equally. Some are budget-friendly whole others focus on manufacturing finesse and safety. Let me give some reasons for comparatively unusual trampoline prices.
New design, research and state of the art manufacturing methods will hike up the price.
Some trampoline comes with safety certifications. These safety measures cost money, so it ends up adding to the retail price.
Premium frame, padding, materials, lightweight and durability plays a significant role in pricing.
The manufacturing location also impacts the final pricing.
The maximum load capacity also affects the trampoline price tag.
I know you have a brief idea behind the reason of some module coating more than the other. But what kind of cash are we talking about here? Let me give you a hint of the amount of money you should stack up before buying a trampoline.
Please note that these following prices are an average indication rather than the actual cost for the mentioned models. So they can vary depending on brands, manufacturing quality and availability.
16-17 feet trampoline: $600- $1000+
14-15 feet trampoline: $500- $1000+
12 feet trampoline: $350- $800
10 feet trampoline: $300- $700
8 feet trampoline: $200- $500
6 feet trampoline: $150-$400
I gave you an outline of the maximum of both lower and higher prices. We are not responsible for any inconsistency of the actual pricing of these models.
What are the safety certificates of the trampoline?
There are four safety certificates that ensure your kid will not be morbidly injured because of the design flaw of a trampoline.
GS
TUV
CE testing
EN71-14
These are mostly European certificates that ensure the safety of a trampoline, ladder, anchor kit and safety enclosures. I just gave you a hint of these certificates so you can check whether your preferred trampoline is certified or not. I will explain about these trampoline safety certificates in another article.
In the end
The first thing that came to my mind when I thought about buying a trampoline for my daughter was, what is the right size for a trampoline?
I hope you will find that answer in this detailed trampoline sizes guide with a few crucial pieces of information.
Let me clarify one last time, don't buy a trampoline before your kid turns to six. And if you do, then grab one with all the safety measures and tools as well as one with certification. As for the adults, let's leave the couch and bounce to lose a few ounces.